Home » Blog » 4 Ways to get active with your dog (and why)
4 Ways to get active with your dog (and why)
by: Marlo K.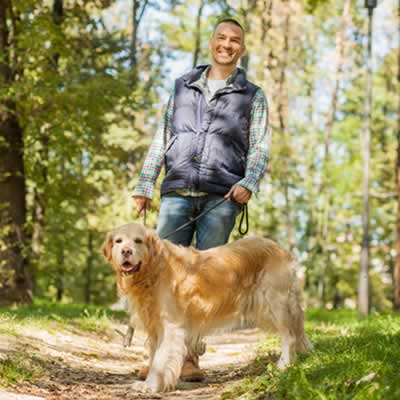 Your dog can be your ultimate workout motivator! According to a recent study done by BMC Public Heath, as a dog owner, you spend on average 22 more minutes being active than non-dog owners. You also take an additional 2760 steps per day. Humans are more likely to exercise when their workout partner is a dog instead of a human. So why not find fun an exciting way to reach your fitness goal in get those steps in with your canine pal.
Walk it off or Take a Hike
This is the easiest and most go to way to get active with your dog. There are many ways to find interesting places to walk. Check out Trail Link (traillink.com/activity/dog-walking-trails/) to find dog-walking trails around the country. Remember when hitting the trails to remember a leash, water, and to clean up after your pet.
Get Rollin'
Want to get your dog running, but don't want to run yourself? Why not try a set of wheels. Bringing your dog on a bike ride, skate session, or on a skateboard trip around town will tucker your pal out while keeping you active as well. When starting these activities, make sure to keep an eye on your furry friend to see how they respond to this type of exercise. Keep your initial trips short then extend them as your dog gets more comfortable.
Pooch Plunge
Swimming is a great way for your four-legged friend to get some exercise. Some dogs are naturally born swimmers whereas some dogs need some help learning. When teaching your dog to swim use a life vest and start in shallow water where you can get in to help them out and reward them. Remember to clean your pooch after these activities because chlorine from pools and dirt from bodies of water can mess with your dog's skin and fur. Check out WaterPik's Pet Wand for easy clean up!
Go Agile
Agility training allows for a dog and their owner to exercise their body and mind. Dog agility allows for exercise, bonding, and training in order to complete obstacles. There are often clubs where you can take your dog to get started or you can create a homemade course in your back yard using items from around the house!
---
bmcpublichealth.biomedcentral.com/articles/10.1186/s12889-017-4422-5
---