Home » Blog » Waterpik® + America's VetDogs Blog Post
America's VetDogs® Love Waterpik® Pet Wand PRO™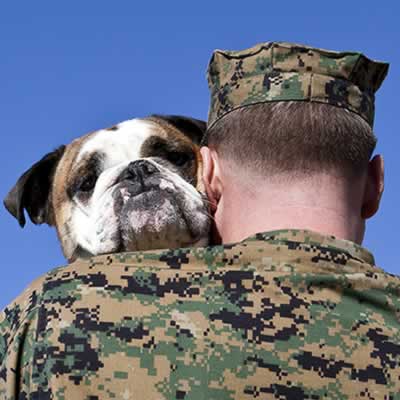 Everyone deserves a great shower experience, including your furry family members! While pet bathing can be a messy, frustrating challenge, the Waterpik Pet Wand PRO make it easy to bathe faster and play longer—just what all pets want, especially the hardworking service dogs of America's VetDogs. Water Pik recently partnered with this worthy nonprofit to arm 185 dog handlers, volunteer puppy raisers, deserving veterans, and service dogs with the Pet Wand PRO.
America's VetDogs&reg Make Life Easier for Injured Vets
The service dog programs of America's VetDogs provide enhanced mobility and renewed independence to veterans, active-duty service members, and first responders with disabilities, allowing them to once again live with pride and self-reliance. Not only does a service dog provide support with daily activities, it also provides owners with the motivation to tackle new challenges.
Training & Placing Guide Dogs
VetDogs trains and places guide dogs for individuals with many needs: those who are blind or have low vision, hearing dogs for those who have lost their hearing later in life, service dogs for those with other physical disabilities, facility dogs as part of the rehabilitation process in military and VA hospitals, and PTSD service dogs to help mitigate the effects of post-traumatic stress disorder.
Helping All American Veterans - For Free
VetDogs began as a project of the Guide Dog Foundation for the Blind in 2003, providing specially trained assistance dogs to combat-wounded service members who had been deployed to Iraq or Afghanistan. Today, VetDogs helps all American veterans who served honorably, regardless of when or where they served, or how they became disabled.
It costs over $50,000 to breed, raise, train, and place one assistance dog, but America's VetDogs provides services completely free of charge to veterans. VetDogs is funded entirely through the generosity of individuals, corporations, foundations, and Veteran Service Organizations, and receives no government funding.
Behavioral Health & Occupational Therapy
America's VetDogs have served in Iraq and Afghanistan with combat operational stress control teams, part of the U.S. Army's initiative to safeguard soldiers' behavioral health while deployed. The organization also trains physical and occupational therapy dogs to work with the recently returned wounded at Walter Reed Army Medical Center. By working with the military, the VA, and other partners, America's VetDogs increases options and services available to veterans with disabilities. This ensures that they get all the assistance they require to once again be self-reliant.
Pet Wand PRO Makes Pet Bathing Easier
VetDogs sets the standard by which veterans, the military, and the VA measure assistance dog providers, and it's just one way to recognize the sacrifices made by our men and women in uniform. Water Pik, Pet Wand PRO are proud to make pet bathing easier for America's VetDogs, and encourage you to support them, too. If you would like to help an injured veteran or those in need of companionship, please consider donating at https://www.VetDogs.org.