Home » Blog » How to Wash & Groom Your Dog
How to Wash & Groom Your Dog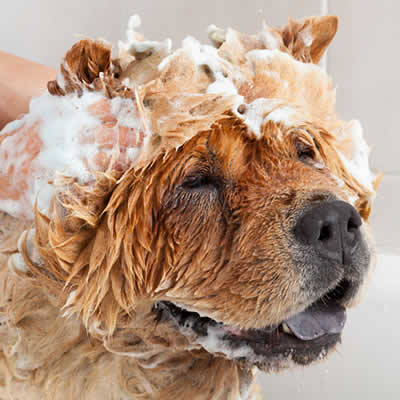 Knowing how to wash and groom a dog is a skill every dog owner should have. Even if you send your dog to a groomer every few weeks, there will still be occasions when it's easier and timelier to wash, trim, or clip your dog yourself.
Getting Ready for a Bath
It's best to get all dog grooming supplies before you need them. Supplies you will need to bathe your dog at home include:
A water supply and dog shower. Purchase one that you're sure will work with your shower or connect to your garden hose.
A place for your dog to stand. This can be a shower stall, portable tub, sink, or simply outside if the weather is nice.
Dog shampoo. Dogs' skin has a different pH balance than human skin, so invest in dog shampoo rather than using your own.
Multiple towels. The more of these, the better.
A bathmat or wet towel. This will keep your pup from slipping if you're washing him or her on a slick surface.
Clothes that you don't mind getting wet.
Operation Scrub-a-Dub
In preparation for a bath, prepare your dog-grooming supplies so that everything is within reach. Aim for efficiency: You don't want your dog standing in water longer than necessary. If required, keep your dog's collar or chest harness on to maintain control. Keep in mind that cold or extremely hot weather may make it impractical or even unsafe to wash your dog outdoors.
Ideally, the bathing procedure should go something like this:
Place a mat or towel in the bottom of a tub or sink. If you're using a towel, make sure it's wet so it stays in one place. Fill the bath with lukewarm water, testing with your hand to make sure it's not too hot or cold. If the dog is very small, then one inch of water is fine. Otherwise, fill until the water reaches the dog's knees. If you're washing your dog outside, using and filling a tub or sink may not be necessary.
Choose a comfortable spray mode on your chosen dog shower or other shower head. Run it across the dog's full body to wet its entire coat.
Talk calmly to your 4-legged friend throughout the process.
Rinse, lather the dog up, rinse again, and get the dog out of the tub and into towels as soon as you can.
Treats!
Treats are a great way to help your dog feel positive about bathing and grooming. Choose specific treats that will be given only during or after grooming time. This makes the treat special to the dog.
Some good high-value treats that make great dog-grooming aids include:
Small (thumbnail-sized) cut-up pieces of lean steak or chicken breast.
Small, cut-up pieces of cheese or cheese sticks. Keep in mind that too much cheese may cause digestive problems for your dog.
Soft, commercially packaged treats commonly sold in grocery or pet stores.
What About the Nails?
Nail care is as important as fur care. For dogs that have never had their nails clipped, many dog trainers recommend giving them a long-lasting chewy treat, like rawhide or large pig's ear. While the dog is preoccupied with the treat, you can sneak in, hold a paw, and clip 1 nail.
Many dogs and puppies hate having their paws handled. To start, clip only 1 nail per session. Over time, the dog will let you clip 2 or more nails per session.
You can also keep your dog's nails trimmed by going on daily walks that include some pavement or concrete on the way. The hard surface helps to wear down the nails. Try avoiding pavement in extremely hot weather, and be mindful of hazards like broken glass.
Summing Up
To keep your dog happy and healthy, you will want to learn basic grooming skills. Check out this article for complete ear to paw dog grooming tips and tricks for dog grooming.
Make bathing and grooming less stressful for you and your dog by having everything you need close at hand before you start.
Use special treats for grooming sessions so the dog has a powerful incentive to sit through the process.
If you are still unsure of how to groom your dog, ask your veterinarian for further advice.
---